Owecon OWB 250P – 300P – 350P Power Brake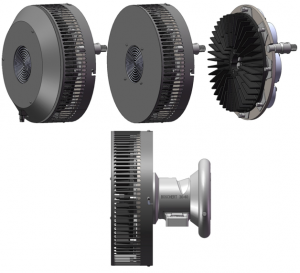 The "P" in the OWECON OWB250P-300P-350P Series of pneumatic brakes stands for POWER – and rightly so. They constitute a strong set of brakes within the OWECON product line and are called into action when conventional brakes fail.
See OWECON´s complete selection of web tension brakes.
Up to 1.500 Nm Torque
Our power brakes are able to slow down or stop unwind under simultaneous heat dissipation. OWECON provides the user with a brake system that has the ability to apply precise brake control at range up to 1.500 Newton Meters of torque. When designing our power brakes, we are aware of the safety component and we therefor decided to develop brake systems that can easily be integrated with safety chucks. This way, we ensure safety for employees, material and equipment.
Installation and application of OWECON´s OWB250P-300P-350P Series could not be any easier. Our power brake comes as a complete unit. This superior design facilitates a simple installation and direct fit on the machine frame. Consequently, OWB250P-300P-350P power brakes are easy to maintain. Being supported by OWECON, we can ensure high performance and a long life span.
Excellent brake force under high heat dissipation
Range up to 1.500 Nm
Designed for integration with safety chucks
Designed to fit directly on machine frame
Easy to maintain
Produced and supported by OWECON.
Power Brake