Owa Amplifier Series
With the OWA & OWI Amplifier Series, OWECON has been able to design an analog Load Cell Amplifier and Loading Indicator Box.
The OWA load cell amplifiers and OWI loading indicator boxes is high quality test equipment to indicate the web tension in all types of web processing machinery. Our amplifiers are particularly applicable in the paper, foil and converting industry.
High Compatibility & Flat Design
During our time as a supplier of advanced systems and components for industrial production, we have learned that mainly 2 features determine the quality of OWA Load Cell Amplifiers & OWI Loading Indicator Boxes: Compatibility and effective design.
Our analog load cell amplifiers and indicators are suitable for all types of standard load cells from OWECON or other manufacturers. Their flat and practical design makes them perfect for effective measurement and indication of web tension control.
OWA100 Series
Analogue Load Cell Amplifier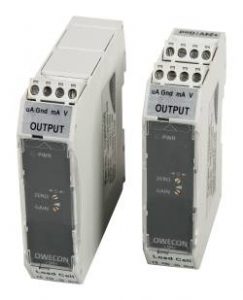 The OWA100 load cell amplifier series is designed to work with all types
of strain gauge based load cells.
Measuring method: Wheatstone measuring bridge
Working range: 1 mV/V to 50 mV/V load cell signal
Power supply: 18-36V DC or 110-240V AC
Width: 22,5 mm for DIN rail mount
OWI Indicator Box Series
Data sheet DE
OWA200 Series
Digital Load Cell Amplifier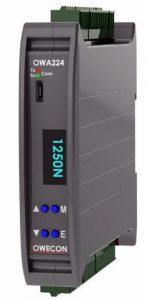 The new OWA200 digital load cell amplifier series is designed to meet all requirements of tension sensing within industries that is handling printing applications, converting, paper, foil, narrow web, labels, ribbon, wire and other weight systems.
Design features:
Transmitter – Receiver – Mini USB for setup – OLED Display – Scroll Up – Scroll Down – Menu – Enter
Features for input and output pleas read our Data Sheet
OWI100 Series
Analogue Load Cell Indicator Box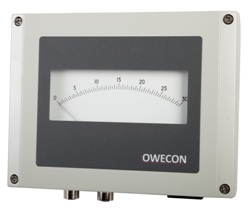 The OWI100 indicator boxes with a built-in load cell amplifier of the
OWA100 series gives the operator a clear analogue indication of the
current web tension.
The box is equipped with a standard 4-pole M12 connector for simple
installation of load cell cables.
Scale: Standard 0-100%, other scales optional
Power supply: 18-36V DC or 110-240V AC
Dimensions: 180 x 140 x 75