You don't need to buy a new machine; you just need to update it. OWECON is your total supplier of all components of tension measurement and control systems, for all kinds of industries.
Production is the core of many companies' turnover, and it needs to have a perfect flow. But like any electronic equipment, the production machine sometimes needs an update.
An advice
If speed is a problem you would like to improve, we would recommend you to check your amplifier.
An amplifier is an electronic device that can increase the power of a signal.
If your amplifier is ineffective, the signal will not be improved as planned, and your production will lose its effective flow.
Our amplifiers have flat and practical designs that make them perfect for effective measurement and indication of web tension control.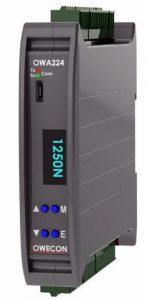 Contact us – phone: +7734 2711.